Version Two


CAST

(Up to 17)
SNOW QUEEN

F

HER TWO ACOLYTES

M/F

GRANNY/NARRATOR

F

KAI

M

GERDA

F

HUMMING BIRD

M/F

KERRY 'THE KING' FISHER

M

BERT CROW

M

ELSIE CROW

F

PRINCESS

F

PRINCE

M

OLD ROBBER WOMAN

F/M

LITTLE ROBBER GIRL

F

ROBBER

M/F

RUDI THE REINDEER

M

OLD LAPP WOMAN

F






The show can be performed by a cast of up to 17, but the original production was staged with a cast of 7 actors (3M. 4F), who doubled as follows:






F1:
F2:
F3:
F4:
M1:
M2:


M3:

THE SNOW QUEEN (throughout)
GERDA (throughout)
GRANNY, ELSIE CROW, OLD LAPP WOMAN
ACOLYTE, HUMMING BIRD, PRINCESS, LITTLE ROBBER GIRL
KAI, KERRY FISHER, PRINCE, ROBBER
ACOLYTE, BERT CROW, OLD ROBBER WOMAN
RUDI THE REINDEER
(this actor was also on KEYBOARDS throughout)

SETTINGS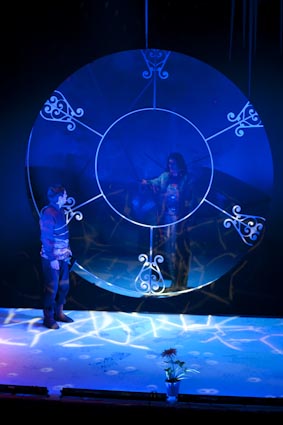 Act One


GRANNY'S ATTIC


THE SQUARE


GRANNY'S ATTIC


SPRING JOURNEY


THE ROYAL BEDCHAMBER

Act Two


ROBBERS' LAIR


WINTER WASTES/LAPLAND


THE ICE PALACE


GRANNY'S ATTIC

The design and staging can be as simple or as lavish as resources allow. This is not a pantomime, so there are no transformations, grand set pieces, or extravagant costume changes.

MUSIC
Thirteen Numbers. The first production was cast with seven actor/musicians, with no separate band or MD. But the music has also been scored for two keyboards, so the show can be performed by non-instrumentalists – i.e. as a more conventional musical.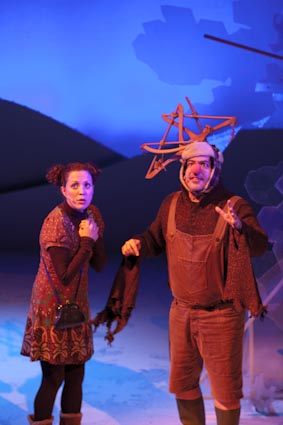 This version of THE SNOW QUEEN was first performed at
Theatre Royal Margate on 10th December 2009.
"Theatre Royal Margate's Christmas show, THE SNOW QUEEN, is more than an icy musical tale about friendship and adventure. It keeps the hilarity high and the pace frenzied from start to finish… Riddled with word-play and ridiculously bad humour, THE SNOW QUEEN's major triumph is its song list – strong and catchy tunes that give the whole piece its effortless feel. What the show achieves with its first-class cast is a smut-free story told with expert and skilled hands – a true delight and a magical evening for all the family."
(ISLE OF THANET GAZETTE)
The script for this version of THE SNOW QUEEN (A Licence to Chill) is now published by Double Honours Publications, and is available for sale on Amazon, but enquiries should be addressed to JOSEF WEINBERGER PLAYS (020 7580 2827), who handle all contracts and from whom inspection copies are available.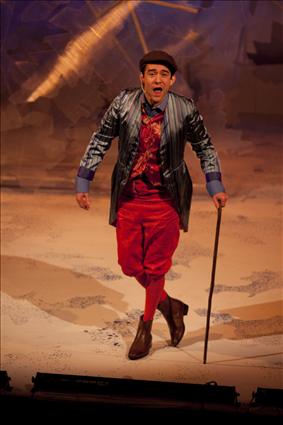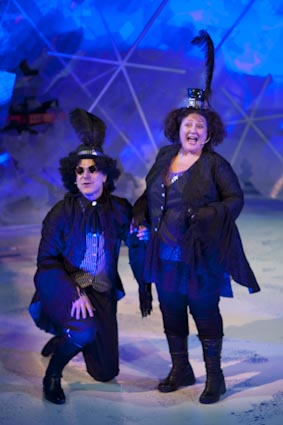 Photographs of the Theatre Royal Margate production
by
Nick Gurney
IN THIS SECTION
please choose a pantomime:
Aladdin
Ali Baba

Cinderella
Dick Whittington
Hansel & Gretel

Jack & the Beanstalk
Little Red Riding Hood
Mother Goose
Pinocchio
Puss in Boots
Robin Hood & the Babes in the Wood
The Sleeping Beauty

Snow Queen


Version 1
Version 2
.