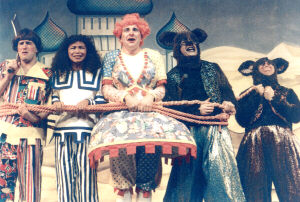 DICK WHITTINGTON
BOOK BY COLIN WAKEFIELD. MUSIC AND LYRICS BY KATE EDGAR
"Christmas at Salisbury comes with no superstars, no lasers and no gimmicks. But over the past five years writer/director Colin Wakefield and composer Kate Edgar have repeatedly shown how much fun you can have with the basic ingredients of traditional family panto - a strong script, stunning sets and costumes, specially composed original music, spectacular dance numbers and, of course, lots of audience participation."
(THE GUARDIAN)

CAST (5F 5/6M + Chorus)

| | | |
| --- | --- | --- |
| KING RAT | M | Villain. |
| FAIRY BOW BELLS | F | Enemy of King Rat. |
| SARAH THE COOK | M | Dame. |
| IDLE JACK | M | Her son. |
| DICK WHITTINGTON | F | Principal Boy. |
| ALDERMAN FITZWARREN | M | A merchant |
| ALICE FITZWARREN | F | His daughter |
| SCRATCHIT | M | Comic baddy rat |
| SNIFFIT | F | Comic baddy rat. |
| TOMMY | F | Dick's cat. |
| SULTAN OF MOROCCO | M | Fitz's long-lost cousin |
CHORUS of children and/or young adults as LONDON CITIZENS, RATLINGS and SEA CREATURES

CASTING NOTE: This pantomime was written for a cast of ten principals and a small chorus, but will also suit a larger company. Some of the principals doubled in the Opening Chorus (as citizens and merchants).
With a larger company, a separate chorus, of whatever size, can be used for the Opening, as well as for fleshing out a number of other scenes (e.g. the Rat Rap, Fitzwarren's Shop, the Mop Drill, the Sultan's Palace and the Finale). The more Rat(ling)s the better: London and Morocco are overrun with them, and they may be played by children or adults or both. The Sultan of Morocco is a natural double with Alderman Fitzwarren, but they can be played by different actors if preferred.

SETTINGS
Three FRONTCLOTHS ( Two, or even one, would suffice) :
LONDON BRIDGE

HIGHGATE HILL
A MOROCCAN BEACH
Four MAIN SETTINGS:
LONDON DOCKS
FITZWARREN'S SHOP
ABOARD THE GOOD SHIP SAUCY SAL (including Shipwreck, Transformation and underwater U.V. Ballet)
THE SULTAN'S PALACE
The designs and staging (particularly the Shipwreck) can be as lavish or as simple as resources allow.

MUSIC
Sixteen Numbers. The original songs and music are scored for two keyboards and percussion, but can be tailored to suit resources.





DICK WHITTINGTON was first performed at Salisbury Playhouse on 7th December 1996.
"This is Salisbury, where clean, crazy, song-filled fun delivers family entertainment. Kate Edgar's songs and music are probably better than ever." (SALISBURY JOURNAL)
"An absolute joy." (THE PUNTER)

The script and music for DICK WHITTINGTON are published by JOSEF WEINBERGER PLAYS (020 7580 2827), who handle all contracts and from whom inspection copies are available
IN THIS SECTION
please choose a pantomime:
Aladdin
Ali Baba

Cinderella
Dick Whittington
Hansel & Gretel

Jack & the Beanstalk
Little Red Riding Hood
Mother Goose
Pinocchio
Puss in Boots
Robin Hood & the Babes in the Wood
The Sleeping Beauty

Snow Queen



.