COLIN WAKEFIELD and KATE EDGAR have established a strong reputation as writers of traditional pantomime and their scripts are now available for production by professional companies and amateur societies.

Their shows feature all the traditional pantomime ingredients as well as original songs and music specially composed for each show by Kate Edgar
"Christmas at Salisbury comes with no superstars, no lasers and no gimmicks. But over the past five years writer/director Colin Wakefield and composer Kate Edgar have repeatedly shown how much fun you can have with the basic ingredients of traditional family panto - a strong script, stunning sets and costumes, specially composed original music, spectacular dance numbers and, of course, lots of audience participation."
(THE GUARDIAN, Dick Whittington)

Casts range from eight to twelve principals, plus a chorus of children or young adults. Productions can be as simple or as lavish as resources allow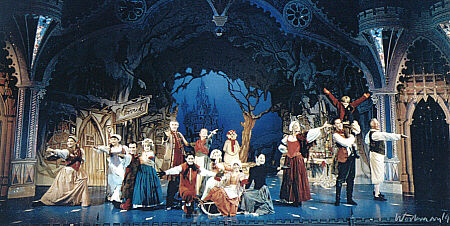 KATE EDGAR and COLIN WAKEFIELD offer a consultancy service to those using their scripts, for example advice on casting (including directors, designers, choreographers, musical directors and musicians). They have each directed four professional productions of their pantomimes, and can also offer advice on staging and technical matters.
We welcome commissions for new titles, whether pantomimes or other Christmas shows or children's musicals.
"Expect strong, clear story-telling, daft jokes, traditional routines, audience participation, a dash of magic, and lots of fun. If you want superstars, gimmicks, laser beams, TV soap stars - go somewhere else."
(THE GUARDIAN, Aladdin)
All of the pantomime titles are published by JOSEF WEINBERGER PLAYS (020 7580 2827), who handle all contracts and from whom inspection copies are available.
All enquiries relating to consultancy, commissions or other non-contractual matters should be addressed directly to Colin Wakefield colwake@btinternet.com or Kate Edgar (01725 512635)