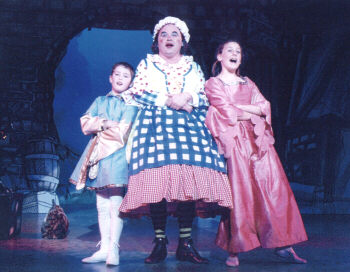 ROBIN HOOD AND THE BABES IN THE WOOD
BOOK BY COLIN WAKEFIELD. MUSIC AND LYRICS BY KATE EDGAR
"With their usual class and style, Colin Wakefield and Kate Edgar have beautifully entwined two great stories to create one fantastic pantomime"
(NEW FOREST POST)

CAST
(4/5F, 5/6M +2 Babes (girl and boy) +Chorus )
| | | |
| --- | --- | --- |
| THE SHERIFF OF NOTTINGHAM | M | Villain |
| ROBBIT | M | Comedy henchperson. |
| COPPIT | F | Comedy henchperson. |
| MARION | F | The Sheriff's ward. |
| NANNIE NELLIE NORA | M | Dame |
| ROBIN HOOD | M | Principal boy. |
| FRIAR TUCK | M | Outlaw |
| LITTLE JOHN | M | Outlaw |
| WILL SCARLETT | F | Outlaw |
| FAIRY OF THE FOREST | F | |
| KING RICHARD THE LIONHEART | M | |
| | | |
| CHILDREN: | | |
| ROSIE | F | Older Babe (about 10-12) |
| TOM | M | Younger Babe (about 9-11) |
CHORUS of children and/or young adults as VILLAGERS, SCHOOLCHILDREN, FOREST ANIMALS, GHOSTS, and KING RICHARD'S ATTENDANTS.


CASTING NOTE: This pantomime was written for a cast of nine to eleven principals, two children (the Babes) and a small chorus, but will also suit a larger company. Some of the principals doubled in the Opening Chorus (as oppressed citizens of Nottingham). With a larger company, a separate chorus, of whatever size, can be used for the Opening, as well as for fleshing out a number of other scenes (e.g. as extra outlaws in the Forest, as animals in the Transformation, as Sheriff's guards in the Castle,and in the Finale). If a smaller cast is needed, the Fairy of the Forest can double with Will Scarlett, and King Richard with Little John.

SETTINGS
Two FRONTCLOTHS (One would suffice) :

THE CASTLE

THE FOREST


Four MAIN SETTINGS:
NOTTINGHAM MARKET SQUARE
THE BABES' NURSERY (Schoolroom and Bedroom)
THE FOREST(including Robin Hood's Den and Transformation)
THE SHERIFF'S CASTLE (Main Hall and Torture Chamber)
The designs and staging can be as lavish or as simple as resources allow.

MUSIC
Fifteen Numbers. The original songs and music are scored for two keyboards and percussion, but can be tailored to suit resources.





ROBIN HOOD AND THE BABES IN THE WOOD was first performed at Salisbury Playhouse on 9th December 2000
"The script is packed with action, knockabout comedy and one-liners so fast you need your skates on. This is an astoundingly good show,"
(BLACKMOOR VALE GAZETTE)
"Children seeing this show as their first visit to pantoland are lucky indeed."
(SALISBURY JOURNAL)
The script and music for ROBIN HOOD AND THE BABES IN THE WOOD are published by JOSEF WEINBERGER PLAYS (020 7580 2827), who handle all contracts and from whom inspection copies are available
IN THIS SECTION
please choose a pantomime:
Aladdin
Ali Baba

Cinderella
Dick Whittington
Hansel & Gretel

Jack & the Beanstalk
Little Red Riding Hood
Mother Goose
Pinocchio
Puss in Boots
Robin Hood & the Babes in the Wood
The Sleeping Beauty

Snow Queen



.