LITTLE RED
RIDING HOOD


BOOK BY COLIN WAKEFIELD.


MUSIC AND LYRICS BY KATE EDGAR

"Sheer joy from start to finish...
A great combination of traditional and modern"
(THE STAGE)




CAST
(4M, 3F)
| | | |
| --- | --- | --- |
| NARRATOR | M | Troubadour. Story-teller. Also plays the WOODCUTTER. |
| GRANNY | F | Eccentric and independent, but easily flattered. (Not a panto Dame). |
| MOTHER | F | Hardworking, loving, exasperated. Single parent |
| RED | F | Direct, plain-speaking, inclined to be bolshy. Teenager (about 14), but played by a young adult. |
| ROBIN | M | Her younger brother (about 12), also played by a young adult |
| WOLF | M | Last of a long line. Traces of aristocracy. Now sad and hungry. None toobright. |
| WEASEL | M | A wheeler-dealer. Spiv with his own agenda |
| | | |

SETTINGS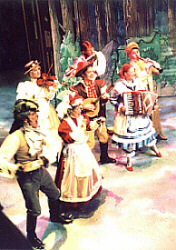 ONE FRONTCLOTH (could be GAUZE) - optional :
WOODLAND SCENE
Three MAIN SETTINGS:
THE WOOD Exterior
FAMILY COTTAGE Exterior.
GRANNY'S COTTAGE Interior
The design and staging can be as lavish or simple as resources allow. The two cottages could be part of the same truck. The interior of Granny's cottage is the most practical setting. This is not a pantomime, so there are no transformations, lavish set pieces or extravagant costume changes.

MUSIC
Fifteen numbers. The original production was cast with 7 actor/musicians, so there was no separate band.The music has also been scored for two keyboards, so the show can be performed by non- instrumentalists, although ideally Red should be a flautist.





LITTLE RED RIDING HOOD was first performed at Winchester Theatre Royal on 12th December 2002, produced by the Hiss and Boo Company.


"The lost art of festive Theatre has been rediscovered in Winchester... The Theatre Royal's Christmas show is one of the best you could hope to see anywhere: a superb but modestly-budgeted production that keeps the whole family gripped with its inspired but straightforward retelling of a well-known fairy tale."
(WINCHESTER CHRONICLE)


The script and music for this version of LITTLE RED RIDING HOOD are published by JOSEF WEINBERGER PLAYS (020 7580 2827), who handle all contracts and from whom inspection copies are available.

IN THIS SECTION
please choose a pantomime:
Aladdin
Ali Baba

Cinderella
Dick Whittington
Hansel & Gretel

Jack & the Beanstalk
Little Red Riding Hood
Mother Goose
Pinocchio
Puss in Boots
Robin Hood & the Babes in the Wood
The Sleeping Beauty

Snow Queen



.