Version Two

CAST
(5M,4F or 4M, 5F + Chorus)
| | | |
| --- | --- | --- |
| MOTHER GOOSE | M | Dame |
| JACK | F | Her son. Principal boy. |
| SILLY BILLY | M | Her other son. |
| LADY AMMONIA | F | Vile Lady of the Manor. Double act with.. |
| CUTHBERT | M | Her ghastly son. |
| JILL | F | Her lovely daughter. Principal girl |
| PRISCILLA | F/M | The Magic Goose |
| FAIRY FEATHER | F | Queen of Gooseland. |
| THE DEMON MAGICIAN | M | A fiendish magician. |
CHORUS of children and/or young adults as CIRCUS PERFORMERS, GOBLINS and GOSLINGS.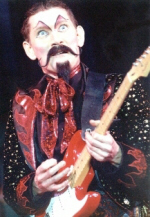 CASTING NOTE: This version of MOTHER GOOSE has been written for a cast of nine principals and a small chorus, but will also suit a larger company. Most of the principals double in the Opening Chorus (as circus performers). With a larger company, a separate Chorus, of whatever size, can be used for the opening, as well as for fleshing out a number of other scenes (e.g.the Transformation, the Goblin Ballet, the second Circus scene and the Finale).


DESIGN AND PLOT NOTE: This pantomime has a Victorian setting, and the 'framework'image should be of a Victorian Theatre. The Demon Magician runs a Circus Troupe and specialises in magic tricks, which are integral to the actionof the show



SETTINGS
Two FRONTCLOTHS (One would suffice) :
VICTORIAN THEATRE
RURAL SETTINGS

Four MAIN SETTINGS:
VILLAGE with CIRCUS The Circus Troupe brings its caravan to Town.Set includes exterior of Mother Goose's Cottage
MOTHER GOOSE'S COTTAGE Interior.(At first: humble and homely. Later: garish and in the worst taste.)
THE MAGIC POOL Set in the Goblin Glade. (The Transformation)
GOOSELAND Fairy Feather's Domain.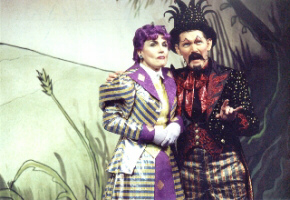 The designs and staging (including the magic effects) can be as lavish or as simple as resources allow.

MUSIC
Seventeen Numbers. The original songs and music are scored for two keyboards and percussion, but can be tailored to suit resources.

First performance of this new version of MOTHER GOOSE: Salisbury Playhouse -8th December 2001.

"It is the second time that Colin Wakefield and Kate Edgar have written and directed this oldest of pantomime stories at Salisbury, so it was an additional challenge to find an approach that was new but true to the tradition. They have managed it superbly."
(BLACKMORE VALE MAGAZINE)


"It was really good. The baddie was the best character - he had really good eyebrows. The songs were funny and the jokes were good. I really enjoyed the magic."
(Jonathan Adcock, Aged 11. Quoted in the WESTERN DAILY PRESS)


The script for this version of MOTHER GOOSE (The Pantomime with Magic) is now published by Double Honours Publications, and is available for sale on Amazon, but enquiries should still be addressed to JOSEF WEINBERGER PLAYS (020 7580 2827), who handle all contracts and from whom inspection copies are available.
IN THIS SECTION
please choose a pantomime:
Aladdin
Ali Baba

Cinderella
Dick Whittington
Jack & the Beanstalk
Little Red Riding Hood
Mother Goose
Version 1
Version 2

Puss in Boots
Robin Hood & the Babes in the Wood
The Sleeping Beauty

Snow Queen