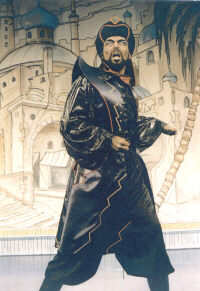 ALADDIN
BOOK BY COLIN WAKEFIELD.
MUSIC AND LYRICS BY KATE EDGAR
"This ALADDIN is traditional to the tips of its turned-up toes and has the Playstation generation on the edge of its seats screaming with delight. Shining through Colin Wakefield's script and Kate Edgar's direction is an intelligence that has considered the child's-eye view. There is constant interaction across the footlights, and an ample smattering of well-managed and eagerly contributed audience participation. It is rare that any production genuinely deserves the title "a show for all the family". But this one does."
(THE INDEPENDENT)

CAST (4F, 6M or 5F, 5M + Chorus)

| | | |
| --- | --- | --- |
| ABANAZAR | M | Villain |
| GENIE OF THE RING | F | Dotty. Foil to Abanazar. |
| WIDOW TWANKEY | M | Dame. |
| ALADDIN | F | Her son. Principal boy. |
| WISHEE WASHEE | M | Her other son. |
| EMPEROR FOO WIFF PONG | M | Silly baddy. |
| P.C. PING PONG | M | The Emperor's officer. (Double act) |
| PRINCESS SO-SHY | F | The Emperor's daughter. |
| SING SONG | F | The Princess's handmaid. |
| SLAVE OF THE LAMP | M or F | Mysterious. Mercurial. Athletic. |
CHORUS of children and/or young adults as CITIZENS, LAUNDRY ATTENDANTS, WAITERS, CHINESE BOGWOPPITS and SLAVES.


CASTING NOTE: This pantomime was written for a cast of ten principals and a small chorus, but will also suit a larger company. Most of the principals doubled in the Opening Chorus (as merchants and citizens). With a larger company, a separate Chorus, of whatever size, can be used for the Opening, as well as for fleshing out a number of other scenes (e.g. The Laundry, the Chase, the Bogwoppit Ballet, the Transformation of the Cave, the Celebration Number, and the Finale). Most of the characters are self-explanatory. The Slave of the Lamp, however, should ideally be played by an actor with strong physical skills: an athlete, a gymnast or (maybe) a karate expert. The idea is that the magic should be in his/her physicality.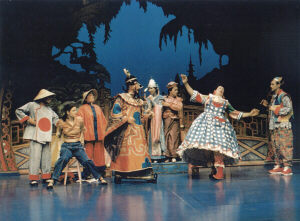 SETTINGS
Two FRONTCLOTHS (One would suffice) :

A STREET IN PEKING.

ARABY.
Four MAIN SETTINGS:
THE PALACE GARDENS
WIDOW TWANKEY'S LAUNDRY
THE MAGIC CAVE (including Transformation)
ABANAZAR'S DEN


There is an optional U.V scene (Aladdin's journey to Araby on his Magic Carpet) which was not used in the original production.


The designs and staging can be as lavish or as simple as resources allow.

MUSIC
Thirteen Numbers. The original songs and music are scored for two keyboards and percussion, but can be tailored to suit resources.





ALADDIN was first performed at Salisbury Playhouse on 11th December 1993,
and was revived in a new production in 1998.
"This ALADDIN proves that pantomime can be great theatre still."
(Salisbury Journal)
The script and music for ALADDIN are published by JOSEF WEINBERGER PLAYS (020 7580 2827), who handle all contracts and from whom inspection copies are available
IN THIS SECTION
please choose a pantomime:
Aladdin
Ali Baba

Cinderella
Dick Whittington
Hansel & Gretel

Jack & the Beanstalk
Little Red Riding Hood
Mother Goose
Pinocchio
Puss in Boots
Robin Hood & the Babes in the Wood
The Sleeping Beauty

Snow Queen



.