PUSS IN BOOTS ... the master cat
BOOK BY COLIN WAKEFIELD.
MUSIC AND LYRICS BY KATE EDGAR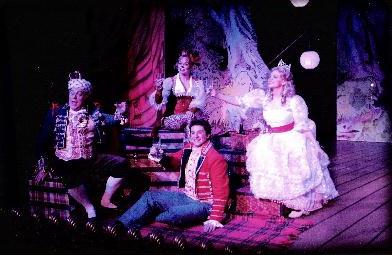 "One of the best pantomimes seen at the Theatre Royal for many years…
A marvellous show."
(THE STAGE)

CAST
(4M, 2F)
TOM




M

The Miller's youngest son

PUSS

F/M

Tom's faithful friend and advisor

KING CEDRIC

M

A displaced monarch

PRINCESS ROSALINDA

F

King Cedric's beautiful daughter

OGRE

M

A tyrant

RATTY

M

The Ogre's long-suffering servant








MILLER

M

Tom's loving father (double KING)

WILL

M

Tom's cruel brother (double OGRE)

HENRY

M

Tom's other brother (double RATTY)


PUSS IN BOOTS is presented by a Victorian Troupe of Travelling Actors under the direction of their famous Actor Manager – Mister Moreton France, with the following cast:


KING




Mister Moreton

France

OGRE




Mister Roland Melville

PUSS




Miss Sally Danne

PRINCESS




Miss Isobel

France

RATTY




Mister Jo Skittles

TOM




Mister Jonathan James








SETTINGS and COSTUMES

The stage is set by Mister Moreton France's Company 'before your very eyes' and costume changes can also take place quite openly. The set changes should be as simple and fluid as possible, with the audience enjoying the theatricality of the whole process.

Necessary locations: THE MILL (exterior); THE RIVERBANK; THE OGRE'S CASTLE (interior)

MUSIC
Fifteen Numbers. The original production was cast with 6 actor/musicians, with no separate band or MD. The music has also been scored for two keyboards, so the show can also be performed by non-instrumentalists – ie. as a more conventional musical.





PUSS IN BOOTS was first performed at Winchester Theatre Royal on
9th December 2004, produced by the Hiss and Boo Company.
.
"It's good to have them back, oh yes it is! Another seasonal sell-out is guaranteed… What's especially nice about this show is its reliance on good-humour and wholesome entertainment."


(THE WEST HAMPSHIRE OBSERVER)
"A true masterpiece from start to finish… My two young sons spent the entire performance on the edge of their seats."
(MEON VALLEY NEWS)
The script and music for PUSS IN BOOTS are published by JOSEF WEINBERGER PLAYS (020 7580 2827), who handle all contracts and from whom inspection copies are available.
IN THIS SECTION
please choose a pantomime:
Aladdin
Ali Baba

Cinderella
Dick Whittington
Hansel & Gretel

Jack & the Beanstalk
Little Red Riding Hood
Mother Goose
Pinocchio
Puss in Boots
Robin Hood & the Babes in the Wood
The Sleeping Beauty

Snow Queen



.