THE SLEEPING BEAUTY
two versions available
BOOK BY COLIN WAKEFIELD.
MUSIC AND LYRICS BY KATE EDGAR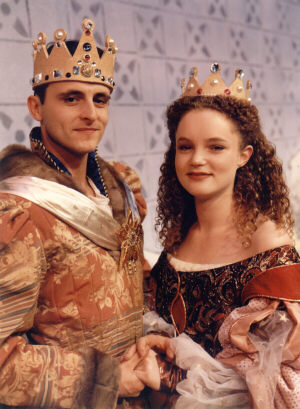 " Once again Colin Wakefield and Kate Edgar have taken a traditional story and brought it up to the minute, with a time-travelling fairy to account for the 100-year sleep."
(WESTERN GAZETTE)
Version One


CAST
(5F, 5M or 7F, 5M + 4 children + Chorus)

| | | |
| --- | --- | --- |
| KING CUTHBERT | M | Silly King. |
| QUEEN ESMERALDA | F | Bossy Queen. |
| PRINCESS BRIAR ROSE | F | Their daughter. |
| NANNY FANNY ANNIE | M | Dame |
| HARRY | M | Nanny's supposed son: really Prince Harry. |
| LORD CHANCELLOR (L.C) | M | Officious Lord Chancellor ("Elsie") |
| CEDRIC | M | His odious son. |
| NUTS | F | The Princess's pet monkey. |
| CARABOSSE | F | The wicked fairy. |
| THE TIME FAIRY | F | The good fairy. |
| PATIENCE (PATTI) | F | An American tourist fairy. |
| GRACE | F | Another American tourist fairy. |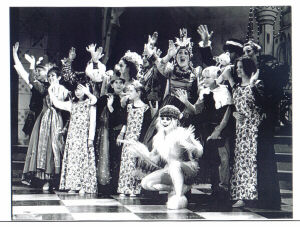 CHORUS of children and/or young adults as PALACE CHILDREN, ATTENDANTS, SERVANTS and BRAMBLE BOGWOPPITS, and specifically:

GRL ONE: BRIAR ROSE aged 7 (non-speaking)
GIRL TWO: BRIAR ROSE aged 12 (non-speaking)
BOY ONE: HARRY aged 7 (speaking)
BOY TWO: HARRY aged 14 (non-speaking)

CASTING NOTE: This pantomime was written for a cast of ten to twelve principals, at least four children (for a growing up/Time sequence in dumbshow), and a small chorus, but will also suit a larger company. Most of the principals doubled in The Opening Chorus (as servants and flunkeys). With a larger company, a separate chorus, of whatever size, can be used for the Opening, as well as for fleshing out a number of other scenes (e.g. the Arrival/landing of the Time-o-Bile, the Christening, the Spinning Wheel Destruction, the Celebration, the Chase, the Falling Asleep and the Awakening, and the Finale). Cedric as a boy (aged 12 to 14 at the beginning of the play) should be played by the adult actor. Patti and Grace are cameo roles which can be doubled by the actors playing Nuts and Briar Rose.

SETTINGS
Two FRONTCLOTHS (One would suffice) :

THE CASTLE

THE BRAMBLES


One GAUZE CLOTH (Optional)


Four MAIN SETTINGS:
THE ROYAL HALL
NANNY FANNY ANNIE'S KITCHEN
HEDGED GARDEN
THE OVERGROWN TOWER (including Transformation)
The designs and staging can be as lavish or as simple as resources allow.

MUSIC
Thirteen Numbers. The original songs and music are scored for two keyboards and percussion, but can be tailored to suit resources.
IN THIS SECTION
please choose a pantomime:
Aladdin
Ali Baba

Cinderella
Dick Whittington
Hansel & Gretel

Jack & the Beanstalk
Little Red Riding Hood
Mother Goose
Pinocchio
Puss in Boots
Robin Hood & the Babes in the Wood
The Sleeping Beauty


Version One




Version Two




Snow Queen



.