CINDERELLA
BOOK BY COLIN WAKEFIELD. MUSIC AND LYRICS BY KATE EDGAR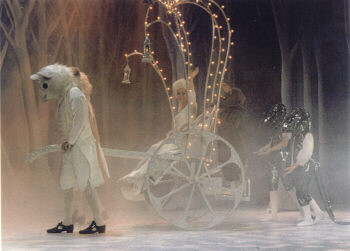 "One of the finest Christmas shows I have seen for years"
(ROMSEY ADVERTISER)

CAST (5F 5M + Chorus)

| | | |
| --- | --- | --- |
| CINDERELLA | F | |
| BELLA | M or F | Ugly Sister. Tall. |
| DONNA | M or F | Ugly Sister. Short |
| BARON HARDUP | M | Their long-suffering father. |
| BUTTONS | M | The Baron's only servant. |
| PRINCE CHARMING | F or M | |
| DANDINI | F or M | The Prince's Equerry. |
| SNATCHIT | F | Broker's Woman, |
| GRABBIT | M | Broker's Man. |
| FAIRY GODMOTHER | F | Elderly, warm, scatty |
CHORUS of children and/or young adults as VILLAGERS, COACH ATTENDANTS, FLUNKEYS and HARLEQUINADERS


CASTING NOTE: This pantomime was written for a cast of ten principals and a small chorus, but will also suit a larger company. The principals doubled in the Opening Chorus and elsewhere (e.g.as villagers, ghosts and coach attendants). With a larger company, a separate chorus, of whatever size, can be used for the Opening, as well as for fleshing out a number of other scenes (e.g. the Transformation, the Finale and, in particular, the Ball). The Ugly Sisters are traditionally played by male actors, with Prince Charming and Dandini played by women. However, this script also works well with these roles reversed.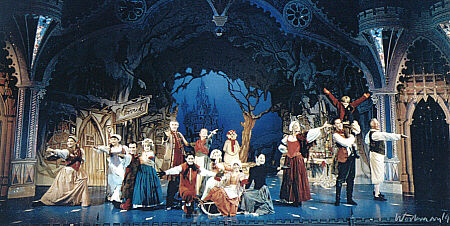 SETTINGS
Two FRONTCLOTHS (One would suffice) :
THE PALACE
THE WOOD
Four MAIN SETTINGS:
THE VILLAGE
THE HAUNTED BEDROOM
CINDERELLA'S KITCHEN (including Transformation)
THE PALACE BALLROOM


The designs and staging can be as lavish or as simple as resources allow.

MUSIC
Thirteen Numbers. The original songs and music are scored for two keyboards and percussion, but can be tailored to suit resources.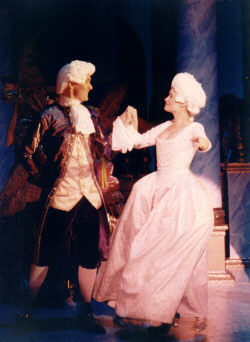 CINDERELLA was first performed
(with female Ugly Sisters) at Salisbury Playhouse on 9th December 1995,
and was revived in a new production (with male Uglies) in 1999.
"Terrific! A great show for all the family."
(WESTERN DAILY PRESS)
"'Even better than last year!' has become a panto tradition at Salisbury as the Wakefield/Edgar team work their magic anew"
(SALISBURY JOURNAL)
The script and music for CINDERELLA are published by JOSEF WEINBERGER PLAYS (020 7580 2827), who handle all contracts and from whom inspection copies are available
IN THIS SECTION
please choose a pantomime:
Aladdin
Ali Baba

Cinderella
Dick Whittington
Hansel & Gretel

Jack & the Beanstalk
Little Red Riding Hood
Mother Goose
Pinocchio
Puss in Boots
Robin Hood & the Babes in the Wood
The Sleeping Beauty

Snow Queen



.