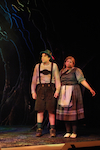 HANSEL & GRETEL
A family musical
BOOK BY COLIN WAKEFIELD. MUSIC AND LYRICS BY KATE EDGAR
"A magical little fairy tale… with a cast so sparkling with merriment that they should be bottled and given away as surprises to startled boys and girls on snowy Christmas mornings. The storybook picture set, the catchy songs and the dance and extempore flourishes… will engross eager minds that love the magic of stories in living theatres."

(stagecorner.com)

CAST (Up to 12)
HANSEL

M

GRETEL

F

OLD GRETEL

F

FATHER

M
STEPMOTHER

F

SPIRIT OF MOTHER

F
WITCH

F

MAGPIE

M

ROBIN

F

OWL

M

HAWK

F

NUTHATCH

M
The show can be performed by a cast of up to 12, but the original production was staged with a cast of 6 actors (3M, 3F), who doubled as follows:

F1:

GRETEL/OLD GRETEL
F2:

STEPMOTHER/WITCH/HAWK
F3:

ROBIN/SPIRIT OF MOTHER
M1:

HANSEL/NUTHATCH
M2:

FATHER/OWL
M3:

MAGPIE

SETTINGS
Act One




COTTAGE




WOOD

Act Two




WOOD




GINGERBREAD HOUSE




COTTAGE

The design and staging can be as simple or as lavish as resources allow. This is not a pantomime, so there are no transformations, grand set pieces, or extravagant costume changes.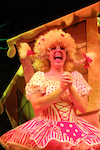 MUSIC
Fourteen Numbers. The first production was cast with six actor/musicians, with no separate band or MD. But the music has also been scored for two keyboards, so the show can be performed by non-instrumentalists – i.e. as a more conventional musical.





HANSEL AND GRETEL was first performed at Theatre Royal Margate on 8th December 2011.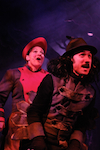 "This intelligent Christmas show is… a magical unravelling of a traditional fairytale beautifully told by a band of modern-day minstrels and troubadours… truly unique sparkle… the show drips professionalism and originality… the stuff of dreams."
(ISLE OF THANET GAZETTE)
HANSEL AND GRETEL is published by JOSEF WEINBERGER PLAYS (020 7580 2827), who handle all contracts and to whom all enquiries should be made.

IN THIS SECTION
please choose a pantomime:
Aladdin
Ali Baba

Cinderella
Dick Whittington
Hansel & Gretel

Jack & the Beanstalk
Little Red Riding Hood
Mother Goose
Pinocchio
Puss in Boots
Robin Hood & the Babes in the Wood
The Sleeping Beauty

Snow Queen



.