ALI BABA AND THE FORTY THIEVES
BOOK BY COLIN WAKEFIELD. MUSIC AND LYRICS BY KATE EDGAR

"This splendid ALI BABA pulls off the unusual trick of retaining most of the elements of traditional pantomime – 'he's behind you', soliloquised sob stories, a chase, 'Oh yes it is!' and a good song to join in – while also being artistically very fresh and imaginative."
(THE STAGE)




Photos by Dylan Woolf





"The Theatre Royal has served up a truly terrific treat this year. Their take on ALI BABA AND THE FORTY THIEVES is that rare theatrical event: a show designed to appeal to adults and children in equal measure. The astonishing musical talent of the performers, combined with a witty script, groan-aloud humour, traditional fun and slapstick comedy left everybody happy, even my world-weary, sugar-crazed seven year old…. The songs, written by Kate Edgar, were so catchy I was disappointed that no CD could be bought as a souvenir."

(ISLE OF THANET GAZETTE)


CAST (4M, 2F)



AL ZAMAN
M




Chief thief



MUSTAFA MARSBAR
M



Foolish henchman
MUSTAFA MALTEEZER
M/F



Foolish henchman
ALI BABA
M



Our hero
KASIM
M



Ali's elder brother
RUM BABA
F



Kasim's wife
KHALIF

M




Their son



BASHIRA

F



Their servant
MISTA SIZZA
M



A tailor
CANTAB

M/F



A smelly camel
CASTING NOTE: The original production was performed by a cast of six (4M, 2F), with doubling as follows: MARSBAR with KHALIF, MALTEEZER with RUM BABA and KASIM with MISTA SIZZA and CANTAB (a stylised beast, requiring just one actor). Without doubling, the show is suitable for a cast of up to eleven.

SETTINGS & COSTUME


The stage can be set by the company 'before your very eyes' and costume changes may, if desired, take place quite openly. The set changes should be as simple and as fluid as possible, with the audience enjoying the theatricality of the whole process.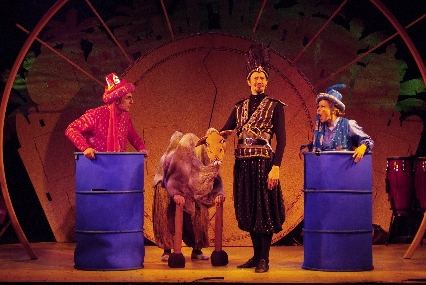 Necessary locations: THE BABAS' HOUSE (interior); THE CAVE (exterior, with a glimpse inside); THE TAILOR'S SHOP; THE STREET (outside the BABAS' house).

MUSIC
Fifteen numbers. The original production was cast with six actor/musicians, with no separate band or MD. The music has also been scored for two keyboards, so the show can be performed by non-instrumentalists – i.e. as a conventional musical.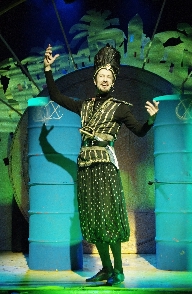 "The rap and the barbershop numbers in particular are a great credit to composer Kate Edgar."
(THE STAGE)

"Encompassing everything from barbershop to haunting clarinet melodies,
this energetic explosion of a pantomime was a gem in Thanet's Christmas celebrations. The strong cast of six treated the audience to a traditional panto while also breathing fresh air into the genre."
(ISLE OF THANET GAZETTE)





ALI BABA was first performed at Theatre Royal Margate on 11th December 2008, directed by Will Wollen.
The script and and music for ALI BABA are published by JOSEF WEINBERGER PLAYS (020 7580 2827), who handle all contracts and from whom inspection copies are available.
IN THIS SECTION
please choose a pantomime:
Aladdin
Ali Baba

Cinderella
Dick Whittington
Hansel & Gretel

Jack & the Beanstalk
Little Red Riding Hood
Mother Goose
Pinocchio
Puss in Boots
Robin Hood & the Babes in the Wood
The Sleeping Beauty

Snow Queen



.